Hey, everyone. It's hard to believe the week has passed and we're wrapping up the Something Wicked Tour. For the complete list of today's stops, click this link.
Today, I have the pleasure of hosting fellow author and friend Harmony Kent to tell us about her book, Finding Katie. Harmony, take it away!
---
Hello everyone, Harmony here. Thanks for hosting me today, Joan! It's great to visit with you and your readers to kick off my fifth and final stop on Story Empire's Something Wicked Blog Tour. In keeping with the scary theme, I'd like to visit the world of a troubled teenager, where those we should fear the most aren't always strangers …
I killed someone, you see. I killed the girl who used to be me.
About the Series:
Evil doesn't always lurk without. All too often, the people we should fear the most are those with whom we are closest. Find out how teenager Kate Charlesworth deals with the aftermath of human cruelty and devastation in this compelling read.
About Finding Katie: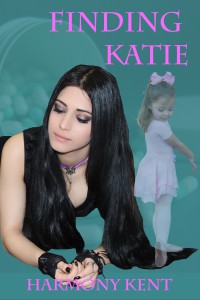 I killed someone, you see. I killed the girl, who used to be me.
I'm Kate … Kate Charlesworth. I'm seventeen, and self-harming. This time I cut too deep, and I'm in hospital. I hadn't meant for it to be so bad—it just sort of happened. I needed a lot of distraction that day.
You've had bad days, right? Days it hurts too much to think. Days you just wanna stay in bed. Days when the world needs to go away for a while. Right?
What do you do when you've hit rock bottom? When there's nowhere left to turn?
This one little mistake lands me back on a psych unit—the last place I wanna be. Only this time, the nurse I end up with isn't content to stick on a band-aid and send me home. She wants me to face my demons. But to do that, I'll have to face who I am … who I used to be … I'll have to find Katie.
If you're interested in finding out more about Finding Katie, please click HERE.
_______________________________________________
About Harmony:
After spending around thirteen years as an ordained Buddhist monk, living in a Zen Buddhist temple, and six years after a life-changing injury following a surgical error, Harmony Kent returned to the world at the tender age of forty. Now, she is famous for her laughter, and has made quite the name for herself … she's also, um, a writer … and fairly well known for that too. She's even won a few awards. Harmony lives in rural Cornwall with her ever-present sense of humour, adorable husband, and quirky neighbours. Harmony is passionate about supporting her fellow authors.
To Learn More About Harmony Check Out:
Website|Story Empire (co-authored) |Amazon Author Page |
Twitter | LinkedIn | Goodreads | BookBub |
---
It's hard to believe the week is over. I hope everyone has enjoyed the tour. I had fun with it. Who knows? We Story Empire authors might have something else in the future.